With Christmas right around the corner it is time to start thinking about Christmas presents. Some people wait until the last minute to even think about Christmas and others start planning the day after Christmas. I have found that over the years people much more enjoy and appreciate Hand crafted Christmas projects compared to store bought presents. Many of us have Moms, Dads, Husbands, Wives, Daughters, Sons, Brothers, Sisters, Aunts, Uncles, Cousins and friends to Christmas shop for.
This week I will be working on making a Mom-Me Rag Blanket for my 2nd Cousin. This particular blanket takes me about a week to make from start to finish. The right colors can make or break the whole blanket. Since I am making this for a little girl I picked pretty butterflies with bright colors as the main fabric and then matching bright colors as my secondary fabrics. Now what size do I want to make my Mom-Me Blanket. Each of my blocks are precut 6″ x 6″. So I decide my blanket is going to be 36 " x 36 ". I then decide what the back of my blanket will look like. I go with all Butterfly fabric on the back of my blanket. So I lay out the back of the blanket first and then begin laying out the front of my blanket.
I normally lay my blankets out on my bed while I am trying to figure out my patterns. First I decide which block will be your main block. And lay out your main blocks first. Then you can add in your secondary blocks and start working on what kind of pattern you want. It is pretty much up to you on what kind of pattern you do. When I am laying them out I do not try and make them all perfect and straight because for me this is like a rough draft. I may end up changing how it looks two or three times before I start the actual sewing. I also don't start sewing on my blanket until I am sure I love the pattern. If you don't love the pattern than keep trying until you do.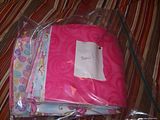 Once I have the pattern all set out and have totally decided that is how I want the Mom-Me blanket to look then I pin each row together and make them with the row number. I do this so that when I start sewing on them I don't get the rows messed up and then my blanket will not look the same. After I have pinned together each row and marked it I put it into a gallon sized zip lock bag because I don't want to loose one of the rows or a piece of fabric. I also place them in the bag so that nothing gets spilled on them or so that cats don't lay on top of them and get them all full of hair. I place the blanket in the bag each night after I am done working on them. See you tomorrow for Day two of my weekly project.
Related posts: